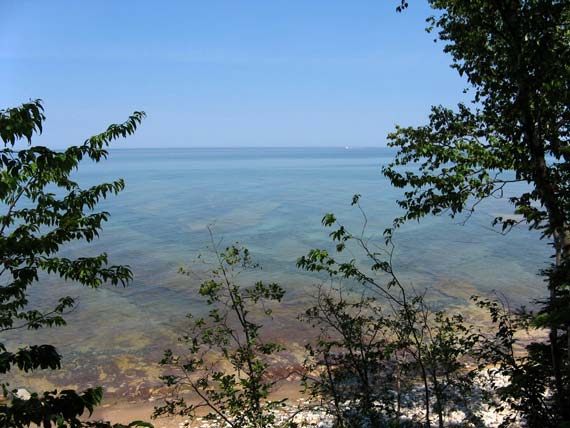 Yesterday's adventure was a picnic and beach wander based at the mouth of Hurricane Creek, in Pictured Rocks National Lakeshore. I find it difficult to pick one image to carry the beauty and loveliness of this place. We also walked down to the lighthouse, and checked out several shipwrecks along the shoreline. Looking at the size of the now water-warn timbers and the robustness of the metal pinning them together, it's difficult to imagine the power of water and ice that incurs such damage.
The breeze was light, but enough to keep the insects away on the beach although not up in the shade where we ate at the picnic table (stomp stomp from those wearing shorts!). There wasn't enough to make the water noisy, so the beach seemed almost quiet. I walked a ways out on the sandstone that's beneath the water in that area, and marveled that the Lake kept it clean of cobbles, pebbles, and even sand.
As a bonus, when we were headed south bound for Seney, we passed through a downpour. As is often typical, however, the cell didn't extend south of town (Hemingway was here!), so the farm remained dry.