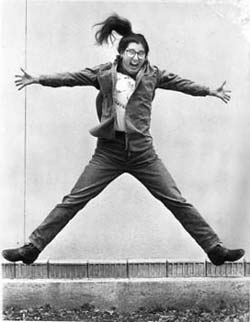 I'm not comparing myself to Harry Connick, really! Love this photo from the Washington Post, where Harry shows off his flexibility during the curtain call on opening night for "The Pajama Game" at the American Airlines Theatre in New York City.
My jump, on the other hand, was for a budding journalist, for her class assignment back in my UGA days. She had to catch some action, as for a sports photo, to train her finger to stop the action instead of missing it.
Of course, John eventually took my photo into Photoshop and moved me an additional foot in the air! Talk about drama!