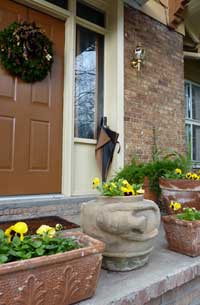 I've been inspired by the new camera to think about still life photos again, the composition thing. Although I took this one with the Lumix….
Earlier this week, I spotted the umbrella and the pansy counterpoints and tried to do something with them. This is the best, and still leaves me rather cold.
I finally decided that mostly the problem is all the shades of brown.
I like the straight lines, with only a few curves: the wreath, the light, and, above all, the fish-pot in the front. And the pansies.
Still, to my eye, the yellow provides the only non-brown, and it's just not enough.
Or maybe I'm just too critical.
Off to dip back into an Xmas book, Julia Child's My Life in France.