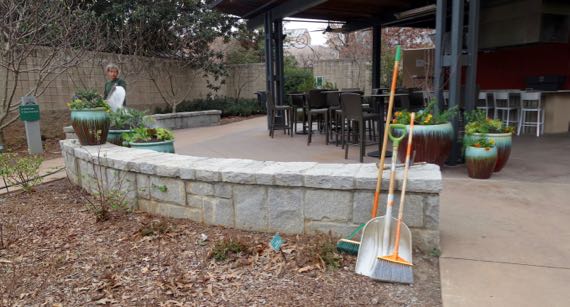 Over at the BotGarden, we saw several busy people, including this guy watering in the food-garden. I can vouch for the fact that it is easier to collect your tools if there's orange (or other bright-colored) paint on the handle or somewhere.
This winter green is putting out new leaves. The Garden's chef was wandering this area to select tasty bits for the restaurant kitchen.
The gnarly margins of these orchids still surprise me. I don't know if MaNachur made this, or an orchid enthusiast (person) bred it. Perhaps a bit of both?
And, interviewing at our demonstration, Charles Barkley. Yes, THE. [Professional basketball players: tall.] Apparently he's making a documentary series. I declined to sign the legal paper and get photographed with it (thereby linking face and name), so I'll be a fuzzed out face in the background…if I'm not edited out.