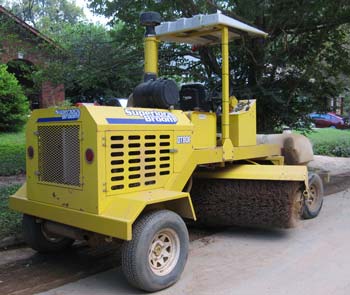 Hopefully, today was the last day that the street in front of our house was a construction site. After all the digging and general construction mucking about, which would send my monitors into a minor earthquake-scale shaking frenzy, today we finally reached the asphalt phase. They're working in the light summer drizzle right now, trying to finish covering all the red subsoil they exposed before it becomes goopy red mud.
I've never noticed any machine-kin to the Superior Broom that they used for several stages of cleanup, but here it is in all its glory. Note the fire extinguisher on top, I guess for when they have to work near, dare I say?, fireweed….
And, wasn't it a good idea that John and I got the white car washed yesterday?