Coffee-sipping view. Accuracy underway.
This dates to 1835, and honors the emancipation of slaves in 1834, erected by MP Charles Buxton. The fountain inside doesn't seem to function any longer.
We spent our energy today on Art, presented first at Tate Britain, then at Tate Modern.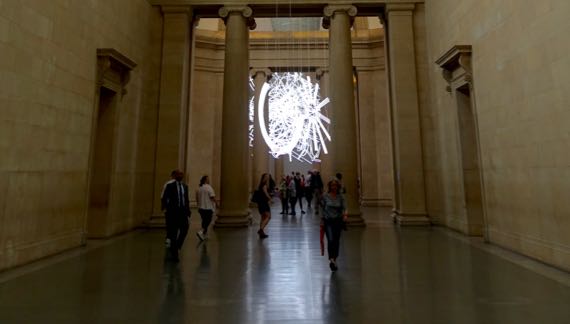 This neon installation by Cerith Wyn Evans, and commissioned for this space this year. It's called "Forms in Space…by Light (in Time)." Wyn Evans says it addresses flows of energy….
View from below of one section of "Forms…."
Detail of "elbow" of Henry Moore's "Recumbent Figure," 1938. It's of Green Hornton stone, which to me is shades of brown.
This is the lace collar of "Portrait of an Unknown Gentleman," by Cornelius Johnson, 1629. I admire the skill it takes to make this detail seem so real.
Ditto—so real-looking. Cabbages are part of Nathaniel Bacon's ~1620–1625 "Cookmaid with Still Life of Vegetables and Fruit."
Compelling face by Arthur Hacker, 1892, "The Annunciation."
We took a vessel like the blue-and-white one up-river to the Tate Modern.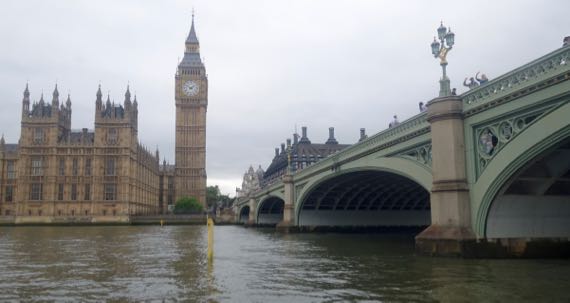 En route, we saw Big Ben tower from a vantage point we've never enjoyed before.
Wouldn't you know that I'd find architecture-like modern art compelling? For shame, I didn't note the artist/title/date.
We headed back toward our bags, stashed at last night's hotel, along Fleet Street, then Strand. I assume this was a wedding photo, but it could be a fashion shoot.
We found Trafalgar Square busy with tourists and people just off work. More bride-outfits. In the central background is St Martin-in-the-Fields, which in the 1500s was in the fields between London and Westminster; however, much of this building dates to the early 1700s. It is the parish church of the Royals and Number 10 Downing.
Great light on the Edwardian Admiralty Arch. Note flag at half mast (squint), honoring the dead in Manchester.